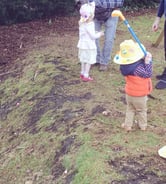 This is my son. At only 2 years old he is teaching me some valuable life lessons (hopefully I am teaching him some too however that is another story for another forum!) Here he is on Easter Sunday out to roll his egg. He quickly retreated inside the house when we began rolling the eggs to fetch his beloved golf club. Why roll it when he could use the egg as a golf ball and whack it down the hill?! He was getting the most out of this activity for himself and doing exactly what he loves which at this moment in time is playing golf; watch out Tiger!
Ok so why am I rambling on about my child – is this just another proud mother showcasing another picture of her child on social media? There is no point denying it, of course there is always an aspect of this, however there is more to this post too too.
As a lawyer did you get into the law wanting to deal with all of the non-legal business issues you have to deal with? Admin, HR, accounting etc. Did you want to worry about complying with the accounts rules in fear that The Law Society or SRA will close your doors if you breach the rules too many times? Did you really want to sit double and triple checking bank payments before sending money out to your clients? When I was doing my law degree I know for a fact this wasn't what I wanted to be doing and my guess is it's the same for you. You want to be helping your clients and practicing the law, you want to be generating more fees – these are the things that you love! We spend such a huge proportion of our life working, we should be doing as much of what we love as possible.
If you do not outsource as much as you possibly can already then I urge you to consider it – let's all embrace our inner 2 year old and do more of what we love. And if not then you can also embrace your inner child by raiding your child's Easter egg collection!
Contact us or visit www.thecashroom.co.uk for more information on outsourcing your cashiering, management accounts and payroll.